Hey Kids!
Want to make paths like these: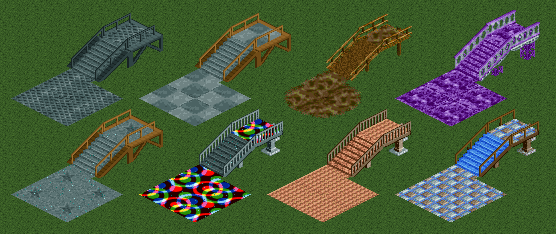 Well, now you can with Uncle Buggy's
NEW
Visual Pathmaker!
Visual Pathmaker is the latest tool for all your path needs.
It can:
* Change path type, railing type, queue type, queue railing type, or support type
* Recolor all of your path elements.
* Brighten or darken all your path elements.
* Import a bitmap for your path (and it works with nearly all types of bitmaps, no matter what the palette).
* Make your path sparkle (no really!)
ALL with the click of a button!
Don't believe me? Here's an actual screenshot of Visual Pathmaker in use:
Yes, you get a preview of your path or queue right on the screen. Visual Pathmaker even generates a preview pic for you, so you don't have to.
Visual Pathmaker is now available
right here
!!!!! Download it today and make some paths!